OFiSKITA - Sebagai preferred partner in Document Solution, Astragraphia berkomitmen untuk tetap menjalin komunikasi dengan pelanggan kapanpun dan dimana saja. Astragraphia kembali menyelenggarakan webinar dalam bentuk diskusi interaktif secara daring pada tanggal 20 Mei 2020. Bertajuk "Menyiasati Bisnis Printing pada Masa Pandemi COVID-19", para narasumber memberikan sharing dan edukasi mengenai tren bisnis dan strategi bisnis online printing untuk menyiasati agar dapat survive di masa pandemic ini.
Jika melihat data lapangan mengenai tren bisnis printing pada masa krisis pandemi COVID-19, telah terjadi penurunan pendapatan harian di printshop. Hal ini terjadi salah satunya dampak dari kebijakan pelaksanaan PSBB di sejumlah wilayah global termasuk di Indonesia. Penyesuaian jam operasional printshop yang menjadi terbatas sehingga menjadi minim pengunjung atau bahkan harus tutup. Narasumber kami, Bp. Tandy Artha Kusuma sebagai Graphic Communication Services Business Marketing Strategy and Planning Manager dari Fuji Xerox Asia Pacific Operation, menyebutkan adanya perubahan perilaku konsumen di era "The New Normal" ini dimana masyarakat cenderung menginginkan semuanya serba cepat dan praktis serta dapat dilakukan secara online justru dapat membuka jendela peluang yang baru bagi para pemilik printshop. Kuncinya ada pada Printshop itu sendiri apakah masih tetap conventional atau siap melakukan perubahan-perubahan, salah satunya adalah bisnis online printing.
Diskusi semakin mendalam ketika narasumber kedua Bp. Ryan Fachrullah selaku Practitioner and Professional Online Business Printing menyebutkan bahwa bahwa wabah COVID-19 ini telah mengubah perilaku konsumen dan menciptakan hal normal yang baru yang disebut "Stay at Home Economy", yaitu ekonomi yang digerakkan oleh pelaku ekonomi yang tinggal di rumah. Tetapi, tidak perlu khawatir bagi para pelaku bisnis karena justru momen tersebut dapat menciptakan sebuah loncatan baru agar dapat mengembangkan bisnis dengan manfaat besar yaitu, dengan online printshop (web-to-print) yang diperkuat dari sisi digital marketingnya.
Lebih dari seratus peserta yang merupakan para pemain bisnis printing dan media graphic art diberikan sejumlah paparan data yang dikemas dalam presentasi dan dilanjutkan dengan sesi diskusi interaktif. Dengan semangat tumbuh dan berkembang bersama pelanggan, Webinar Astragraphia ini diharapkan dapat memberikan wawasan dan tips kepada para pelaku bisnis printing untuk mendorong performa bisnis dan tetap survive.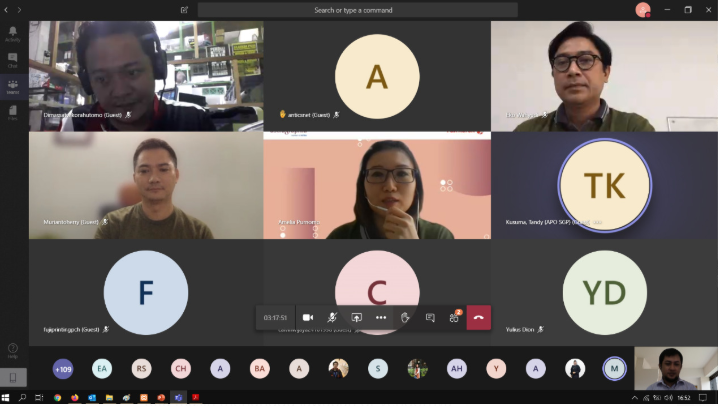 Terima kasih untuk para pelanggan setia sekaligus peserta yang berpartisipasi dalam Webinar Astragraphia kali ini "Menyiasati Bisnis Printing pada Masa Pandemi COVID-19". Semoga insight tersebut dapat memberikan motivasi bagi para pemula dan pelaku bisnis printing yang ada di Indonesia agar dapat tetap semangat, optimis bahwa usaha percetakan (misal: packaging, labeling, brosur, kartu nama, kalender) akan terus bertumbuh, karena menjadi bagian kebutuhan pokok bisnis di lini sektor industri. Tetap nantikan webinar dari Astragraphia selanjutnya. Untuk informasi lebih lanjut, kunjungi www.documentsolution.com dan akun Instagram @astragraphiadocsol untuk tetap terupdate.
Sumber: documentsolution.com